on
August 29, 2014
at
12:25 am
Penny's resolve is tested.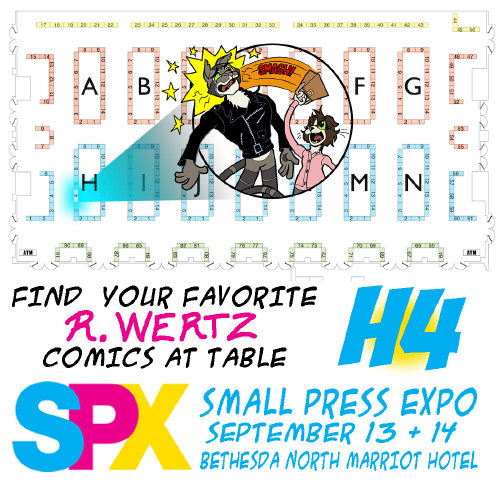 click graphic for larger version
I will be at table H4 at SPX this year. Stop by, if you please!
For Sale at SPX
"Molasses" issue No. 1, featuring an exclusive "Kitty's Cats" story
"Kitty's Cats" post cards and prints
additional goodies from Syrup Pirates, publisher of "Molasses"
Thanks to my friend Jared Axelrod for the handy map graphic, and hosting me at his table!
An exclusive Kitty's Cats story will debut in the new funny animal anthology "Molasses" at SPX 2014. Check out this preview!
(click to enlarge)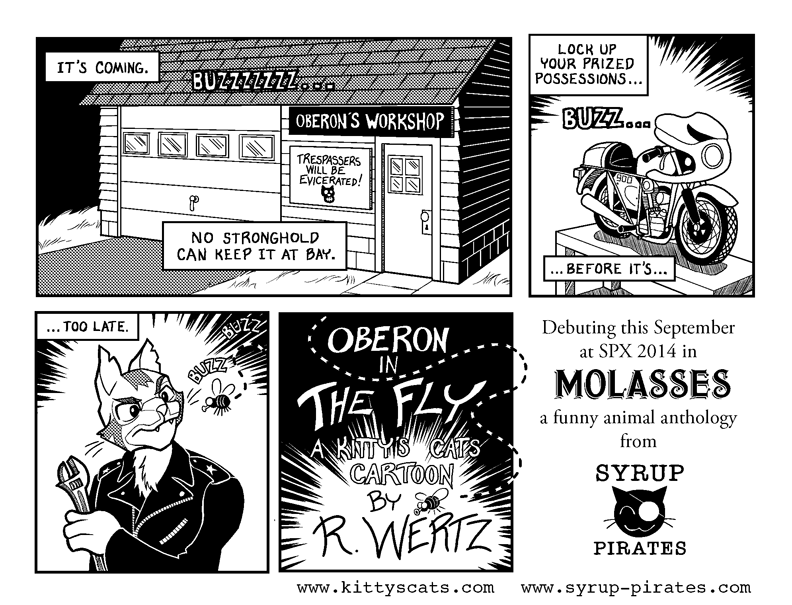 "Molasses" will be published by Syrup Pirates and will feature comics by a number of excellent cartoonists. Check out the publisher's announcement for more details. SPX 2014 takes place on September 13–14 at the Marriott Bethesda North Hotel & Conference Center. Please consider attending and stopping by to pick up the book and other great Kitty's Cats stuff! If you can't make it, the book will be available online shortly after the event.
More Info
I'm very excited to be making an appearance at SPX this year. I will be at my friend Jared Axelrod's table, and will have at least one comic (details forthcoming) and some merchandise to sell. If you are planning to attend, please stop by and say hi!
I spent a few hours checking out Locust Moon Comic Fest yesterday. It reminded me of the early days of Small Press Expo, and I mean that in a very complimentary way. there were a lot of very talented and friendly cartoonists exhibiting their wares. I only regret not getting to talk to more of them. It makes me happy that the Philly comics scene is so healthy. I think this festival has potential to grow and attract people from all over the country.
Delightful goodies I managed to abscond with:
Comics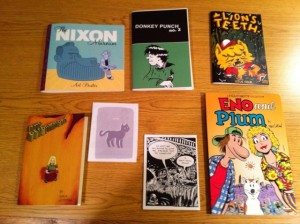 Cards and Stickers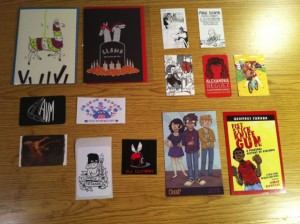 For my part, I was handing out preview mini-comics to anyone I came into contact with. I plan to have a table next year, and hopefully get to meet everyone I missed this time!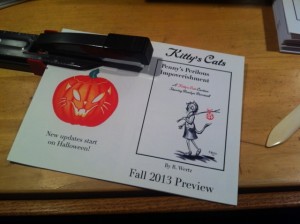 I just got back from SPX. I had a wonderful time, and got to talk to a lot of talented cartoonists. The event is huge now and there was an amazing variety of work on display.
I was handing out a revised version of my Kitty's Cats preview mini-comic. It included 12 complete pages of the story and a full color cover.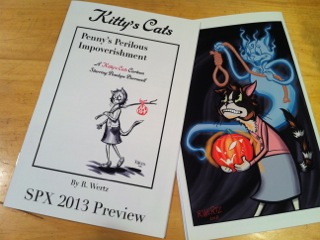 If you are visiting this site as a result of receiving the preview, welcome! I would also like to thank any of you who took the time to talk to me at the Expo. It really helped to remind me why I love comics, and the small press community.
As stated in the new preview, I plan to start posting new comics on Halloween this year. I look forward to finally finishing Penny's first story. I hope you will come along for the ride!
Your pal,
R. Wertz